Metalcore band from BROOKLYN, New York U.S.A Justin Brannan - guitar, Steve Bago - bass, Pat Flynn - drums, Tom Sheehan - vocals (93-98), Rachel - guitar (97-00), Artie Philie - vocals (98-00) 'Indecision formed in 1993. The band members – guitarists Justin Brannan and Rachel Rosen, drummer Pat Flynn, bassist Steve Bago and vocalist Tom. Indecision Band - YouTube This is a place to view videos of the band Indecision from Charlottesville, Virginia. This band has been playing together for more than 30 years. Indecision is not currently on tour. Never miss a show Track your favorite bands and get show alerts for your area. Indecision touted as one of the best rock & roll cover bands in South East Michigan offers well over 150 songs to choose from along with their own original songs ( see song list ). Indecision has opened for well renown bands Tonic, Everclear, Gary Hoey, Saving Able and Saliva.
In early 1998, the remaining members of the recently departed Las Vegas band, Tomorrow's Gone, decided to get together one last time to record a few new songs for a planned TG discography CD on Element Records. Long time TG members Jeff Dean and Shay Mehrdad recruited former TG bassist Mike Rosati and Ryan Butler (Far From It) for a studio band that eventually put four songs to tape. Shay then sent a rough demo mix of the songs to TG vocalist, Lance Wells, who was living in Redondo Beach, CA at the time.
Upon receiving the tape, Lance immediately began writing lyrics for the songs, and during the process the idea to do a whole new band was born. The four new TG songs sounded fresh and vital, and Lance was soon on the phone with Shay to discuss the possibility of playing live again. Mike and Ryan jumped on board without hesitation, but Jeff was unfortunately on his way out of the revolving door of Las Vegas to the windy city of Chicago (where he would go on to play in many great bands such as The Story So Far, The Bomb, and Four Star Alarm). Thus, Tomorrow's Gone became Faded Grey, as there is no TG without Jeff.
After commuting to LV from CA for the first two live shows, Lance soon packed his bags and said goodbye to sunny Southern California and returned to the blow dryer heat of the southern Nevada desert. Since the recording for the TG discography was scrapped when Jeff took three of the four songs with him to Chicago, a new FG demo was in order. The band quickly recorded two new songs (Begin Again and Army of Kids) and re-worked two old songs (Faded Grey and In Silence) with long time friend Abe, and the FG demo 1998 was completed. This recording would later be re-mastered at Q-Mark and released by longtime friend Eric Z as the 'Army of Kids' EP on Element Records.
Many live shows and an ill-fated, never released split 7' with fellow Las Vegan's Curl Up and Die would soon follow. FG slowly began to build a following in LV and southern CA over the next year with the energy and honesty they brought to a scene that was beginning to stagnate, at least in late 90's Las Vegas. Dave Mandel from Indecision Records took note of the band, and FG became a part of the Indecision family in late 1999. Needless to say, this was a perfect home for a little known band from the sun baked desert.
Over the next few months, the band played numerous live shows in LV, CA, and Utah and began writing for what was initially going to be a 7'/EP on Indy Recs. As Shay and Lance began to churn out more songs than expected, the slated EP became an LP, and Joe Schoser (Far From It and Keegan's Quest) was brought into the FG mix to beef up the sound as a second guitarist. During the beautiful spring and blazing summer of 2000, the band worked together tirelessly to write and refine what would become the 'A Quiet Time of Desperation' LP, which was recorded with the great Paul Miner at For The Record studios in Orange, CA during the month of August 2000.
After the release of the FG LP in late 2000 (the official record release was January 2001), the band hit the road for a west coast tour with long-time friends Death By Stereo and new Indy Recs bros Count Me Out. Too many highlights and hijinks went down to discuss here, but the tour was a success on many levels, and FG continued to play relentlessly in LV, CA, and UT during the spring of 2001 before embarking on a US tour during the summer of 2001 with Count Me Out, Striking Distance (east coast leg), Time Flies (west coast leg), and Good Clean Fun (west coast leg). Again, while trying at times, the tour was a blast and many great friendships were made that summer. Unfortunately, the band parted ways with long-time FG drummer Ryan Butler at the end of the summer, and 'Mr. Enthusiasm' himself, Victor Moya, was recruited as the new FG drummer.
The remainder of 2001 and beginning of 2002 was spent playing shows in LV and CA and writing a few new songs, two of which were completed but never recorded (Another Dead Friend and Dot-Dot-Dash). The band would play it's final out of town shows with fellow Indy Recs bros Stay Gold during a weekend trip to CA in the spring of 2002 and began to fall apart shortly thereafter due to a conflict of interest regarding many of the band members (family, school, work, etc). From the summer of 2002 until December 2002, the band was basically dormant until two last shows were booked on December 21st at Skate City and December 22nd at The Hammer House. Jesse Fitts from CUAD was brought in to play drums for Victor, who was tied down with family business, and the shows went down with much passion in front of two great hometown crowds (thanks to everyone who came from out of town as well).
On January 28th, 2005, Faded Grey played a one off reunion show with new(er) LVHC bands Of Faith and Fire and Folsom at the Roadhouse in Henderson, NV. To the band's surprise, kids from all over the country came to the show, and in the end, it was quite possibly the most intense FG experience ever. I think it's safe to say, 'This music will survive.'
Infobox musical artist 2
Name = Indecision
Background = group_or_band
Origin = flagicon USABay Ridge, Brooklyn/New York City, USA
Genre = Hardcore
Years_active = 1993–2000
Label = R.P.P. (1993, 1998)
Back Ta Basics (1995)
Positive Face (1996)
Under Estimated (1997)
Exit (1997–1999)
City Lights (1997)
Crisis (1998)
Revelation(1998)
Household Name(1998)
Denied a Custom (1998)
MIA (1999)
Jawk (2000)
Associated_acts = Most Precious Blood
The Wage of Sin
The Judas Factor
Milhouse
URL = [http://www.mostpreciousblood.com/Indecision Indecision]
Current_members = Justin Brannan: Guitar
Pat Flynn: Drums
Steven Bago: Bass
Artie Phillie: Vocals (1997–2000)
Rachel Susannah Rosen: Guitar (1998–2000)
Past_members = Tom Sheehan: Vocals (1993–1998)
Indecision was a hardcore band which was started in Bay Ridge, Brooklyn in 1993 and disbanded in the summer of 2000.
History
From the band: [ [http://www.myspace.com/indecisionnyc MySpace.com - INDECISION - BROOKLYN, New York - Hardcore / Punk / Drum & Bass - www.myspace.com/indecisionnyc ] ]
Formed in 1993 in Brooklyn, NY, disbanded summer 2000 in El Paso, TX. Notorious for their tireless work ethic, Indecision toured the world until exhaustion, literally. They released three full length albums, as well as countless 7's and EPs. Took pages from Sick Of It All, Agnostic Front and the Cro-Mags as well as the West coast sounds of Unbroken, Undertow and Outspoken and created a sound of their own. Indecision is revered for their uncompromising integrity. Inspired some, hated by many but ultimately respected by all.
The band members -- guitarist Justin Brannan drummer Pat Flynn, bassist Steve Sand-'Bago' and vocalist Tom Sheehan (who was replaced by Artie Phillie in 1998) -- met while attending the Catholic Xaverian High School in the Bay Ridge section of Brooklyn. The band added second guitarist Rachel Rosen after having met her while performing live on her infamous WNYU radio show, Crucial Chaos, in 1996.
Initially Indecision played mostly in local clubs. Over time, a lot of the venues in their neighborhood closed down, which prompted them to take a larger step and lead to the bands integration into the New York City hardcore scene. In the early days, the band would often show up to gigs all in one car, with their equipment tied to the roof with Bungee cords.
Justin Brannan recounts these early days in the liner notes to A Hard Rain's Gonna Fall: [Justin Brannan, Linear Notes of the CD 'A Hard Rain's Gonna Fall', 1998]
Fort Hamilton High School Auditorium in Bay Ridge, Brooklyn, New York. The infamous 'Battle of the Bands'. Our first show as Indecision. Also playing was Out of Line, Confusion and Purge. Indecision had a different drummer, two guitarists and two bass players at the time. What the fuck were we thinking? We used to tie Bago's bass cabinet to the roof of his car with fishing rope and drive to the shows like a caravan. 5 U.S. tours, 2 European tours, almost 300 shows and 5 years later - here we are. Indecision in late 1998. [...]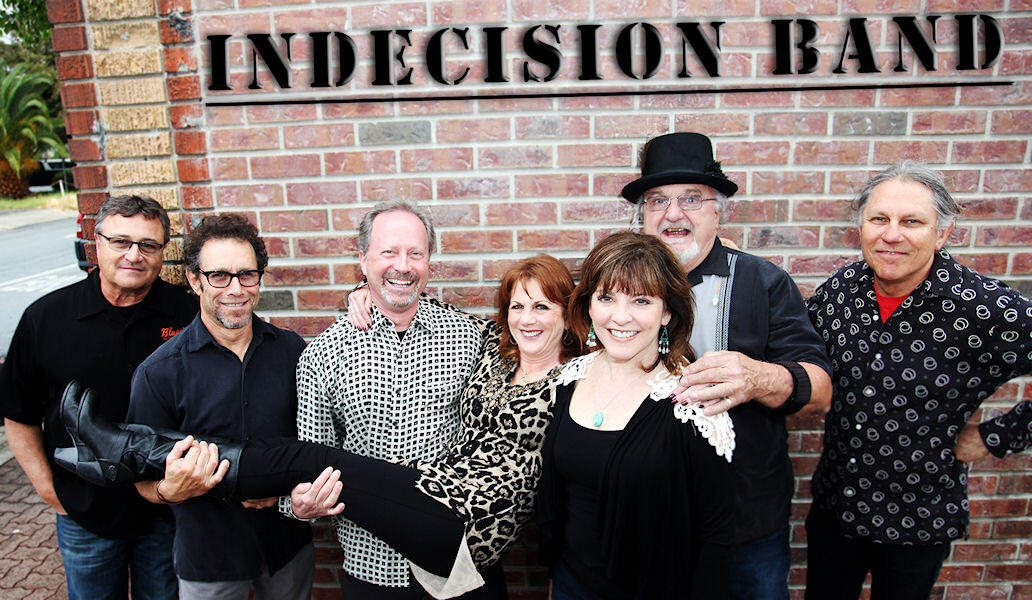 The band was first noticed for its insane live shows at The Wetlands Preserve. Indecision, being a relatively new band at the time, would often open up the Sunday matinees. After they had finished their set, the club would quickly empty out on a regular basiis. This only added to their mystique and quickly built a cult following.
Relentless recording and touring kept the band relevant long after many of their contemporaries faded away.Inspired by bands like Black Flag, Indecision embarked on voracious trailblazing tours, and it became their trademark usually spending a solid 9 to 10 months a year on the road. They were dubbed 'The Working Man's Band' for their affinity to tour cities and countries that other bands wouldn't dare.
Indecision also showed its appreciation for its home Brooklyn as well as New York City -- which they regularly labeled 'Gotham City' on merchandise --.
The former Indecision-members Justin and Rachel are now in the hardcore band Most Precious Blood on Trustkill Records.
Records and labels
The band released their first recording in 1993 on a 7-inch released by R.P.P., a then small Belgian hardcore label. Over the next 7 years, Indecision would tally over a dozen 7-inch singles on a number of different labels, including many limited color vinyl and special edition covers. The band got known on a very grassroots word-of-mouth level from New York City to Thailand, where Indecision remains one of the most popular underground American bands to this day.
In 1996 they signed with WreckAge/Exit Records family and would release 3 albums with the label over the next 3 years: 'Unorthodox', 'Most Precious Blood' and 'To Live and Die in New York City', all of which showed off their slightly metal-tinged brand of thought-provoking hardcore (which managed to express anger and injustice without being hateful).
To Live and Die in New York City
In 1998, 'To Live and Die in New York City' was their first album to feature the polarizing Artie Phillie on vocals (whom the band befriended and poached from noise-crust-punk labelmates, Milhouse), but the album retained the straight-ahead style that their other releases possessed.
The album featured an eerily prophetic manipulated photo of the Manhattan skyline, including the World Trade Center, completely engulfed in flames. Post-September 11th the album cover was banned in many places.
The song 'Purgatory' features an audio sample about the Union Carbide tragedy in Bhopal, India. In December of 1984, a gas leak at a Union Carbide India Limited plant in Bhopal, India, results in tragic loss of life in what is known as the Bhopal disaster, when up to 20,000 people lost their lives. [ [http://www.bhopal.org www.bhopal.org] ]
Release the Cure
In 1999 they tried their luck at another label, putting out Release the Cure on M.I.A. Records. This, there most highly acclaimed album, sadly, would be their last.
The lyrical content was notably more socio-political with songs questioning the government and health care and conspiracy theories in regard to AIDS and cancer research.
History
Controversy
Indecision was notoriously outspoken - most notably when it came to theories on religion, namely Catholicism, and its non-place in the hard-core scene. Most of their album covers, artwork and merchandise was somehow controversial and in some way painfully irreverent to the devout and deistic. The band always claimed it wasn't done maliciously or hatefully, but to 'stir-up a dialogue and inspire free-thought and discussion about religion and its archaic rules'.'
Touring disasters: The 'Indecision Curse'
The bands tour stories have become legendary. During their first European tout in 1997, after having played a show in Wels in front of a handful of people at an indoor skate park with Flatline and Racial Abuse the band was stopped at the Austrian border on their way to Zagreb. The members were strip searched and held for hours, while the van was disassembled by the customs officials. Another incident happened on the last day of a tour in Quebec in 1999, when they had all their money and merchandise seized.
A follow-up to 'Release The Cure' was in the works and tentatively entitled 'The Curse' but the band broke up before anything was recorded.
Columbine rumors
It was rumored and reported by The Village Voice and National Public Radio that on Tuesday, April 20, 1999, Dylan Klebold wore an INDECISION t-shirt during the shooting rampage at Columbine High School. The band had previously played near Littleton in Denver a few weeks prior to the massacre. This spurred the band to issue press releases vehemently denouncing the horrible crime.
The breakup
Indecision disbanded after a show in El Paso, Texas while on tour with Kill Your Idols on June 7th of 2000.
Discography
Full length
Indecision Band Charlottesville
* 'Unorthodox'
* 'Most Precious Blood'
* 'A Hard Rain's Gonna Fall'
* 'To Live and Die in New York City'
* 'Release the Cure'
EPs
* 'Indecision'
* 'Believe'
* 'Samaritan'
* 'Campaign for Complete Musikal Destruction'
* 'To Starve and Steal in New York City (UK)'
* 'To Starve and Steal in New York City (Japan)'
Split records
* Youth Crew 1995 (7' 'Split with Shutdown)
* 7' Split with Sons of Abraham
* 7' Split with Sons of Abraham
* 7' Split with Indifference
* Smash Tradition (7' Split with Knuckledust)
* Fall of Every Man (10' Split with Shai Hulud)
Contributions to compilations
The Indecision Band Walnut Creek
* Harder they come, Harder they fall
* East Coast Assault
* From the Ground up
* All about friends
* Definitely not the Majors
* New Yorks Hardest
* Incompatible CD-ROM Zine
* Losing Face
* N.Y. Catheter Crew
* Punk Rock Jukebox
References
External links
The Indecision Band
* [http://mostpreciousblood.com/Indecision Indecision]
* [http://www.myspace.com/indecisionnyc MySpace profile]